No. 60
Eric Fischl (c) 2004
running time: 28 minutes
DVD/VHS

Eric Fischl is a painter of American disillusionments. Raised in suburbia, Fischl paints provocative vignettes and portraits of middle class lives. His paintings, a combination of David Lynch and Edward Hopper, are fraught with psychological insight and emotional ennui.

Fischl has been a celebrated figure in the New York art world since the early 80's and he continues to paint and exhibit nationally and internationally. On this tape we see four recent exhibitions at the Mary Boone Gallery in New York, a 1984 interview with Fischl by noted art critic Peter Schjedahl as well as an interview conducted by Paul Tschinkel in 2002 at the artist's NY studio.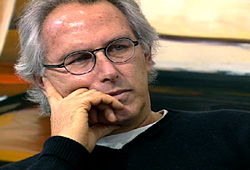 Eric Fischl