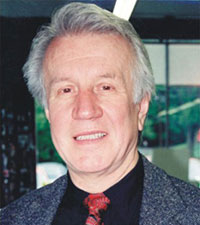 ART/new york, a video series on contemporary art, was begun in 1979 by Paul Tschinkel, founder and executive producer. This unique and extensive series focuses on the visual arts and brings art, artists and exhibitions to a broad public interested in the latest developments on the New York art scene. Over the last 35 years, ART/new york has covered major exhibitions and artists who have defined and shaped the fascinating and diverse directions in contemporary art. Each program features visits to galleries, museums, artist's studios and includes revealing interviews with artists as well as the perspective views of critics, curators, and dealers.
Paul Tschinkel is the creator, producer and director of ART/new york. A graduate of the MFA program at Yale University, he is a painter who in the early 70's turned to video as a way of making art. He was the first artist to produce a weekly program on New York's cable system. Called "Paul Tschinkel's Inner-Tube", it ran from 1974 to 1984 and featured conceptual programming and events, collaborative pieces with fellow artists, exhibitions and the Punk and No-Wave music scene of the late 70's and early 80's. (See Paul Tschinkel on YouTube)
ART/new york's original programming has been since shown and collected both nationally and internationally. It has been screened at prominent institutions such as The Whitney Museum of American Art, MoMA, The National Gallery, the Carnagie International, etc. In addition ART/new york has been screened all over the world including Italy, France, England, Germany, The Netherlands, Japan and many other locations.